It's never too early for going through the top decorating trends for next Christmas, right?
In this post, I'm sharing some of the key Christmas trends I've spotted during my visit to the Maison et Objet fair. One big part of the September edition of the Parisian fair in fact is entirely dedicated to Christmas decoration – and I just couldn't resist making a tour between trees, santa clauses, decorations and festive tables. I'm listing here some of the keywords and trends I noticed – some of them are totally in line with the home decorating trends for 2023 we will share soon.
Anyways, if you think it's too early for Christmas – let's bid that time flies and that these last two months before Christmas will pass super fast?
Top Christmas Decorating Trends for 2022-23
.
Christmas Decorating Trend # 1 /  Natural and organic
This is a trend we already saw in the last years and that it's still definitely here. Strictly connected with the decorating moods of this year,  strongly inspired by nature, the trend is defined  by modest and raw atmospheres.
Natural colors in the range of browns and greens, together with soft neutrals, are matched with wood, bark, raw metals. Sheepskins and white flurry textiles complete the cozy feel of this look.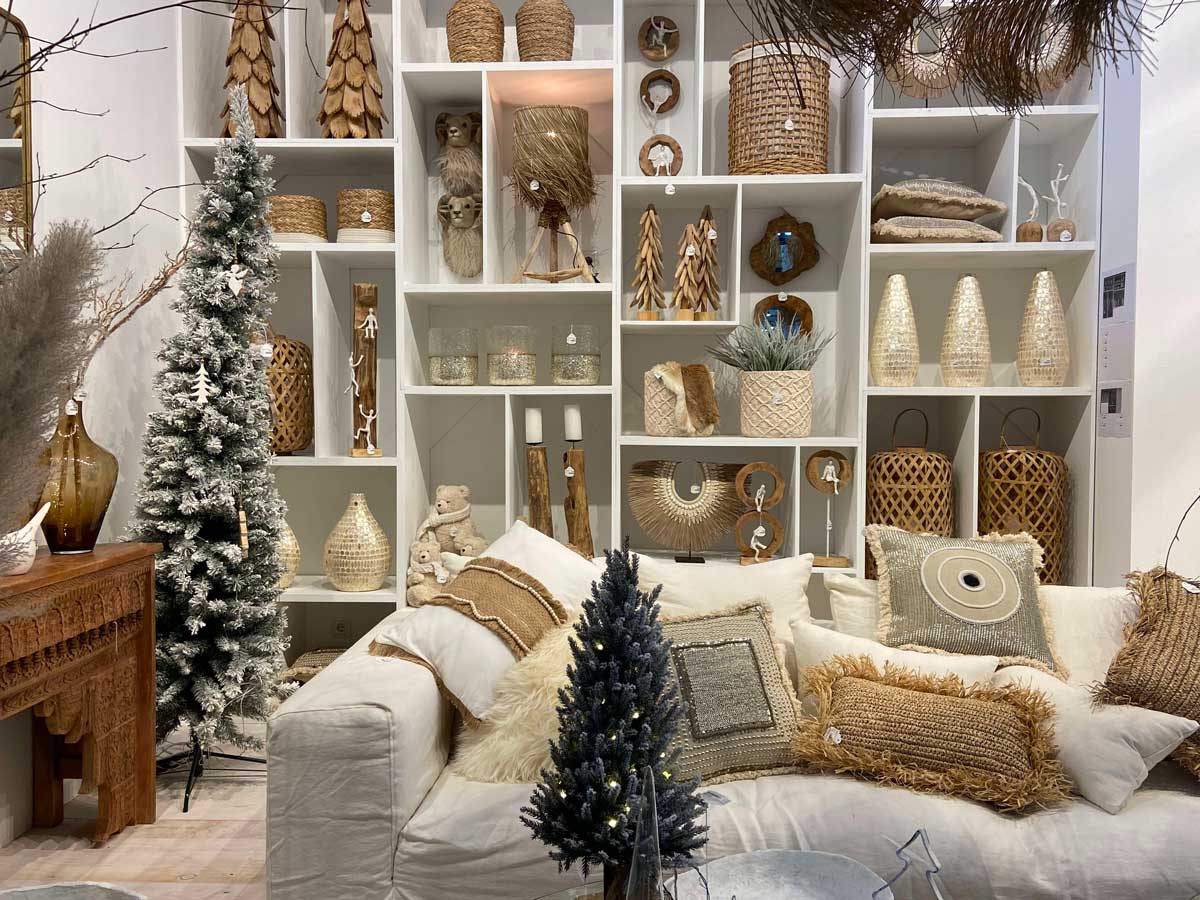 Focus on / flocked Christmas trees
Flocked Christmas trees are artificial Christmas tree with a snow-covered appearance. The word "flocking" in fact refers to an old process of adding a texture to a tree, in this case by adding small white fibers to its surface. This kind of trees have been around since the 1800s and just became in and out of style in the different decades. Considered out of style since some years ago, they are back again for its vintage feel.
.
Christmas Decorating Trend 2023 # 2 /  Traditional
Christmas is for sure that time of the year which evokes all kind of nostalgic emotions and this trend is all about recalling the traditional Christmas atmospheres of our childhood in present days.
The timeless match fir green – Christmas red ( hex: #D6001C ) is the protagonist of this decor, together with all kind of fantasy characters of our heritage. Think elves, snowmen, Santas, elks – but also garlands, berries, Christmas stars – what else occurs in your mind when thinking about Christmas in your childhood?
Focus on / sustainable wrapping
Furoshiki ( aka, giftwrapping with fabric) is the Japanese art of wrapping. A  square piece of fabric is used for gift wrapping, but also for transporting items – the perfect reply to a more sustainable way of wrapping Christmas gifts.
.
Christmas Decorating Trend # 3 /  Fun
Bright, bold, loud and fun: together with the traditional and natural Christmas decorations, there is also space to a totally different kind of decor – never seen before. Bright colors, lot of pink, original and fun elements such as ballerinas, cocktails, weird animals and lots of glitter: this trend is for all those who think that Christmas is exactly the synonymous of party and joy.
Focus on / paper decoration
.
Christmas Decorating Trend 2023 # 4 /  Black and White
Looking for something more minimal and sleek? The black and white trend is for you. Defined by graphic lines and a neutral palette, this trend is a new take on the old Scandinavian decor – but don't forget to add a touch of gold to make it more contemporary and refined.